My Photos. My Flowers.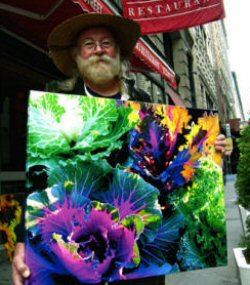 My camera is a black Nikon. My thumbs are green.
I retired in 2003 from advertising after 40 years at J. Walter Thompson creating TV commercials for Burger King, Kellogg's and Ford Truck and moved to Gettysburg, PA.
Before I retired, I designed and sold T-shirts about the battle. (My great-grandfather fought in the Battle of Gettysburg, July 1863.)
A peaceful retirement did not last long. In August of 2004 my daughter Carrie, Wardrobe Supervisor on Broadway in NYC, asked me to photograph a few of my flowers for her.
Just as 2 T-shirt designs became 400, my flower photos will not stop growing. They are my tribute to nature in search of wows and smiles. Always in natural light, arranged in a setting or against black. Archival printed. Many printed on canvas appear 3-dimensional.
I've branched out from flowers and now photograph food, beer, wine, seashells etc. Please visit my shows and Monumental Photography Gallery 18 North Washington Street Gettysburg, PA 17325 or call 717 253-5004.
Enjoy.
Cheers,
John
John R. Kamerer
Monumental Photography
317 Buford Avenue
Gettysburg, PA 17325
717-253-5004